testimonials
Feedback and Praise from Awesome Clients
Services explored include…
An absolute GEM! You'll be astounded by Matt's accuracy, wisdom and compassionate reading. I was left on a high with more soul capital! Thank you. – Kathy, Australia
 Matt is truly, divinely guided. A very special advisor indeed. He delivers insight with integrity, and steers you to focus on empowerment and opportunity in the face of trial. I would recommend him to everyone! – Brit, USA
Amazing, really spot on, empathetic, really passionate, a sincere joy I feel connecting with matt, very positive. highly recommend, straight forward absolutely. Will come back again and again. – Gabriel, Brisbane
The God that shines in and through him is AMAZINGLY CLEAR! What a Beautiful soul, thank you so much! It's not everyday you meet someone as genuine as Matthew! He gave me confirmation in some respects and clarified other things for me. He is WELL GIFTED and worth the price!!! Many Blessings – Carrie, Brooklyn
Matthew is the most refreshing person I've ever had for a reading. He's truly genuine, enthusiastic and very sweet. This reading is truly one of a kind. I've learnt a lot from him today. His insights are extremely detailed and he describes to me everything that he sees. Love it!! He's definitely highly recommended by me to anyone who wants a detailed and to-the-point reading. – Grace, London
Matt's reading was absolutely wonderful. As a sensitive myself, I could very strongly feel the connection he established and what he had to say about my situation couldn't have possibly been more accurate. I am very fortunate to have been pulled by Divinity to meet this beautiful bright spirit and suggest that everyone get to know him and seek a reading with him. You won't regret it! – Wesley, Arkansas
Wow! This was by far the most accurate and amazing reading! He tuned in so quickly and was extremely thorough with everything I asked. Matthew! Thank you – mbunch, USA
 I just want to say Wow! What an accurate and loving reading. Just love Matthews soft loving energies and I feel uplifted and happy just connecting with him. You don't know how spot on you are Matthew! Your answer gave me so much clearance and advice about my question. You are amazing!! I will connect with you soon again ???? I just loved getting such clear guidance about my question! Just what I needed ? Thank you from my heart to yours – Helena, Sweden
Matthew is always lovely and *accurate*… I've had a few readings with him over the course of more than a year and he's always been correct in his assessment as well as his predictions. – Charlie, USA
An extremely gifted reader, gave me one of the most heart centered and truthful reads i have ever received. – Parvathy, India
Magnificent!!! That is all I need say. I enjoy connecting with Matthew. It feels like he literally just reads my soul. He answered my questions before i even mentioned them. Matthew is one of the best readers (if not the best reader) on here, by far!!! You have got to see for yourself. He is AMAZING!!!!!!!! – Uche, USA
This was a powerful experience. One that stands out in the vast sea of many meaningful encounters. Only truth of the highest light and love were exchanged. Brother of light, I thank you <3 - Joakim, Sweden
Thank you so much my dear! Love you! You have been spot on the last couple of years with your insight and predictions. Your prediction dates have been almost to the day! Your beautiful words warm my heart and reassure me to trust my intuition and have patience and love in my soul ❤️ – Leah, UK
This is a late review for multiple readings. Matthew and Genie are able to read the spiritual aspects of things accurately. The depth of reading is incredible. The info provided transcend time and space and reflect the Truth of the soul. The messages delivered are divine. – Sarina, USA
Wonderful wonderful chat with such a lovely man who was really tuned into the core of me. He helped me see into myself and drew the answers out of me gently and easily. All the stars in the galaxy. – Alex, New Zealand
A very profoundly beautiful connection and harmonious session filled with love and light and great truth. I recommend MATT highly!!!! – beautywithinone, nas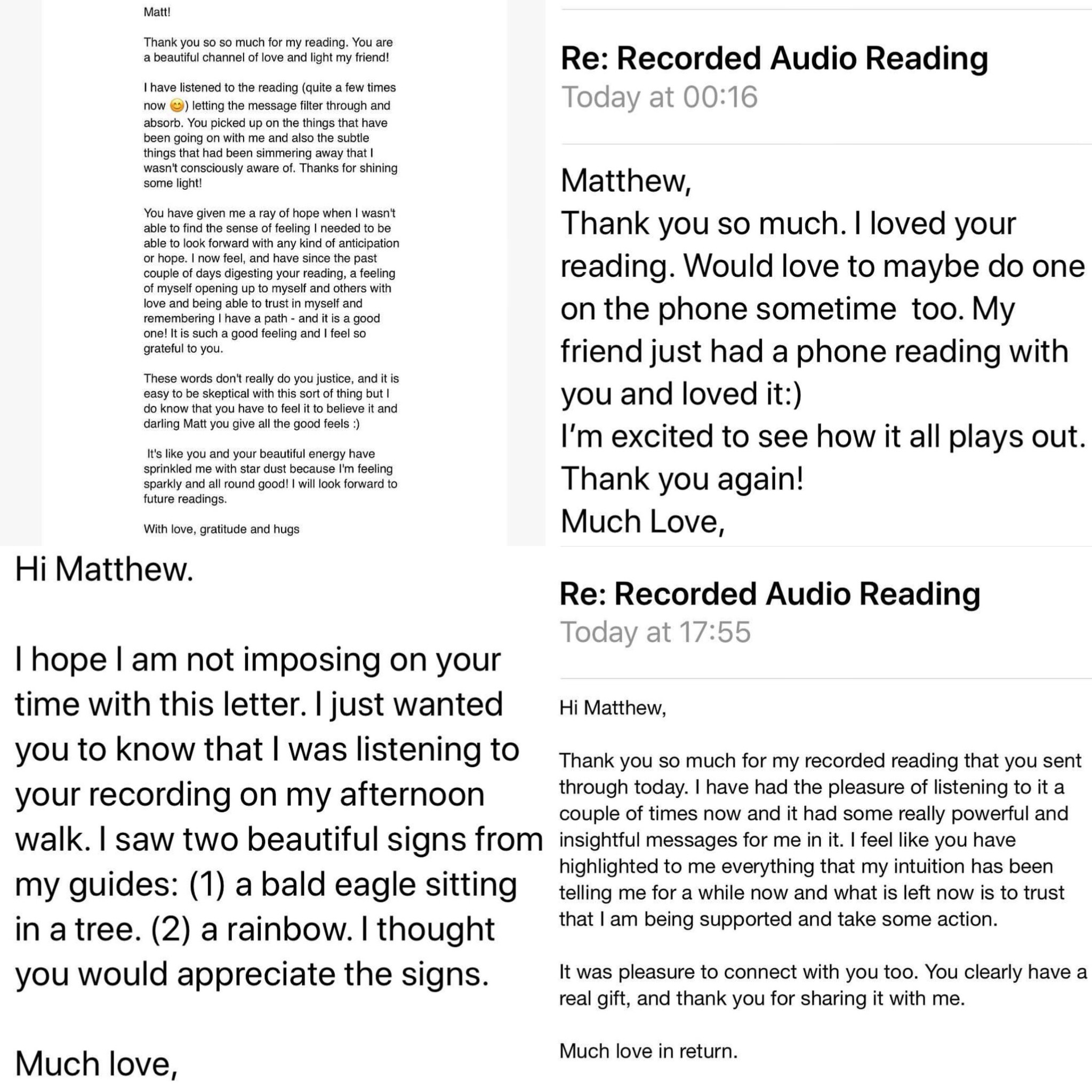 Wow! what a connection. This reading was so full of information I had to write a lot of it down. very concise, clear reader, definitely gifted. Very easy to talk to. I am amazed and delighted to have such a good connection. One of the best readings I have ever had. – Kristina, Peregian Beach
Matthew is amazing, so highly connected with the purest energies. He channeled very important messages from the universe and I always feel the purity of his heart and intentions. I will become a returning client!!! – Sara, Italy
Definitely Top Notch, one of the best readers I have met! Natural, smooth, kind, powerful clear energy. Really am amazed and happy.  Thanks Matt! – Merkabahman633
Connected effortlessly with spirit to provide insightful, accurate, detailed, informative read. Great adviser with tons of wisdom. Awesome healer. Gentle, generous, caring, understanding, patient, gifted person. Felt relaxing, calm, peaceful & comforting throughout the read. A very grateful customer. Highly recommend! Excellent read. Thank You, Matt. – Sibi, Houston
Thank you for an absolutely amazing, wonderful uplifting extraordinary reading!!! Thank you for the wonderful light work you are doing and sharing with the world!!  – Lisa, US
Matthew, thank you so so so much for the reading. I always come to you for them as you are present, and so uplifting. Lately I have been in a pretty crazy time and I'm so deeply grateful that your beautiful reading has shed incredible light on my situation. Reminding me of the truth I know in my heart. I feel more focused and courageous to continue following the path of my higher self. Thank you. I am forever blessed for you to be in my life. ?❤  – Josie, Australia
Very blessed to have had the reading. Thank you so much, Matt! Matt is wonderful. A true relayer of messages in which he just confirmed for me all that I have seen, know and feel about one POI! Very solid connection here! Awwwwesome. The reading was everything I hoped and expected. It was PERFECT. So spot on! The thing that makes Matt unique is that he goes beyond excellent because there are a lot of great readers here! But Matt's energy and joy is rare. He's worth it!! 🙂 – Shreem, Australia
Matt has an incredible gift that he is sharing. I've had 2 readings with him and each one has had crystal clear accuracy as well as resonating with my soul. It is incredible. I have asked for relationship insight as well as life path; I have full confidence in his reading of the situations and take his guidance/advice to heart. – Claire, UK
Matt was very insightful and deep. He gave a very warm and welcoming space. He was very generous with his time and made sure I got all the information I needed. thank you ?✨- Reham, Canada
What a beautiful reading as always! I love him and worth the investment into his gift. Will be back soon! – Andrea, USA
He is insightful, amazing, super accurate, answered all my questions, and was spot on. Truly the real deal! Worth every cent! I am absolutely humbled and blessed! Thank you! You are truly gifted and gave me such comfort ❤❤ – yeahuh, UK
So incredibly intuitive and interestingly insightful!! I love his method! His vibrant energy! His awesomeness, accuracies and being so positively superb! Recommended in a heartbeat. – blueishred, Australia
AMAZING reading!! What a beautiful human. I felt so comfortable. Amazing insight and clarity. So nurturing and comforting. Will definitely be back in the future. Thank you so such ♥️?? – Moni, Japan
Matt is always so in tune with my energy. Always a pleasure to get his guidance and reassurance. Truly the best. Thank you!! – Nichele, LA
Wow!!!! Just wow!!! This is my type of reading. He shares the profound underlying energies that are in play. I can see how I will be going back to this reading many times in the future as life unfolds to gleam the deeper meaning. His insights are very accurate. Lots to digest. Very appreciative of this very detailed reading. Thank you Matthew ?  – roseray, USA
Matt has helped me tremendously in the sessions I have had with him so far. I have been working my way closer to Spirit and my heart, especially recently, and Matt has been able to provide me with both encouragement and guidance in this exciting but sometimes unsettling process. I believe he could help anybody with any problem, because he does not see anyone as a victim, yet empathizes very readily. I am so appreciative.

PhD Student

Matt is a phenomenal professional who walks in integrity and authenticity. He carefully explores presented enquiries to connect with empowered perspectives from Universal wisdom, spiritual clarity, and compassionate understanding in alignment with one's highest good. Matt is a distinct individual as well. The love he feels for the Divine, is the love he feels for life and all humanity. His sensitive, thoughtful, and courteous nature is a joy. It is without reservation I recommend Matthew Fry for your spiritual enquiries, knowing you will find a wonderful and gifted professional committed to uncompromising excellence throughout his work. My heartfelt gratitude to you Matt, for honoring Spirit and inspiring love in all you share and do.

Musician

I have just had the most incredible reading with Matt. I don't often get readings, but I was drawn by Spirit to talk with Matt regarding my spirituality and family matters. He was able to connect in with my energy effortlessly and beautifully. It was like talking to someone who had known me for years! A very calm, and genuine soul. Also a very wise, old soul, who has great advice. I went in to the reading without really big specific questions, but it was like he already knew what I needed to hear about without saying much at all! A truly rare and beautiful treasure. Thankyou for inspiring and uplifting me on this crazy journey we call life! xxx

This reading brought to light some very complex issues I've been dealing with. After the tears dried and I begin to really listen and focus in on what was being said, I felt a feeling of resolve. Matt is always accurate, very polite and will leave you feeling at a calm. He is able to pick up on your core and really delve in about how to embrace positive growth. Having worked with him many times in the past, this reading really was a breakthrough and I'm so very blessed to have spoken to a man as magnificent as him. I believe he's an angel incarnate because he literally walked through my body map and turned the light back on. You will feel the energy moving through your body and when you finish the reading it is beyond words the love you will feel. Absolutely brilliant, highly recommended, thank you so much.

Self-employed

Wow, he is so consistently amazing. Always aligns with the very best for you and invokes it right from your being! He is awesomely tuned in and what a beautiful presence to uplift and inspire you to be all that you are! Don't hesitate to talk to him--you will be opened to more divine light and love which is what you truly are. He is so helpful with any question I ask. He's def my go-to for highest infusion of light and inspiration! Totally gets who I am on a very deep level.

Internet Marketer

After the first wonderfully delivered message, I asked a specific question, and received an amazing, very timely & so "positively charged" reading, I knew I had to return to share what can only be summarized as simply UP-LIFTING experience! ?? Matt has a beautiful and an extremely rare gift, plus a very unique ability to connect, receive & process what can often be an overwhelming amount of energy. Yet, he still manages to get "the essence" and to deliver it with poise, grace & a heartwarming smile! ? Now if I could only package all of the above in order to share it with others, I guarantee that there would be an abundance of much needed positive energy, optimism and love all around us! ☺️✨? ?

The best, most thorough, most encouraging reading I've had. Sometimes when you are so confused in your own life you don't know what "specific" question to ask, and here you need not worry. The "general" reading was amazing. I followed up with a specific question to address one area and it was totally spot on. Genuine, caring, amazing. I love this guy.

Matt has a genuine and potent psychic gift, not just knowledge of the psychic realm, but actual spiritual perception! His reading was great! I'm completely satisfied and will rely on him for future clarity. Thanks Matt, appreciate your service ??❤️

Matt definitely has a gift; I asked for a general reading and gave very little info and he said many things that I feel are true for me and that I have been thinking about a lot lately. I would definitely get another reading with him! He's really able to dig into the thoughts and feelings and explain why things are happening the way they are. I am truly impressed and moved by this reading. Thank you for sharing your gift 🙂

I like his style of work. He will close his eyes and can give you insight on your situation and other things that may appear. It just takes a moment. I will be doing some follow up with him and Yes he's a blessing with his gift. He's very spiritual and says things as they come to him. I recommend you listen to his video more than once to take it all in. He made me feel like it's ok to go with my gut instinct and look for signs of the universe to guide me as well. He gave me his psychic input that had options. It was very helpful.